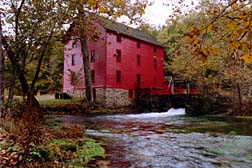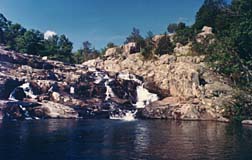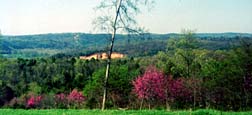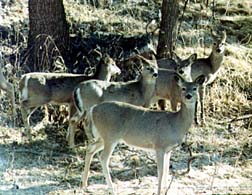 Click here to jump to the 2013 Calendar of Events (on this page)
Eminence was named one of America's Fifty Best Sports Towns in Sports Afield Magazine for 1998. – February 1998 issue

Eminence, MO – There are plenty of activities you can enjoy in our beautiful Ozarks, including canoeing on the nation's #1 float stream. Eminence is considered the Canoe Capital of the World. Year round floating is available on the scenic springfed rivers in the Ozarks.
Our rivers are protected by the National Scenic Riverways with clear water for tubing and swimming.
We have the nation's largest trail ride, offered several times a year. Rentals and reservations are available year round.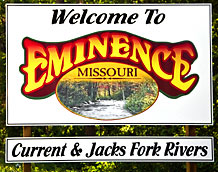 If you like to go hiking, we have the Ozark Trail and Lick Log Trail, which are short and sweet for everyone.
Springtime is just beautiful with flowering dogwoods, redbud, wild cherry trees and many other blooming flowers. There are several restaurants nearby that offer family dining at reasonable prices.
A nice convenience store is within walking distance of the cabins. The menu offers homemade pizza and river-ready sandwiches to go - everything you need for a day on the beautiful Jacks Fork and Current Rivers.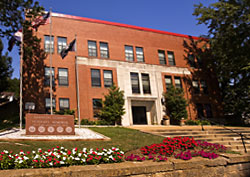 Rodeos, bluegrass and country music are also offered in the area, and there's a new nine-hole golf course nearby.
For Reservations Call: 573-226-3893

Browse the Calendar of Events, below, and keep scrolling to see pictures of our most popular area attraction: nature and the great outdoors!
APRIL [TOP]
April 1
Plan your road trip to Eminence and enjoy our flowering dogwoods, redbuds and wildflowers in bloom!

April 11 - 12
Student Art Show
Student Art Show - Sponsored by the Shannon County Museum. (573) 226-3531

April 21 - May 1
Turkey Season - Spring
MAY [TOP]
May 3
Annual Ozark Mountain Festival
2nd Annual Ozark Mountain Festival - Activities throughout the day with music at night.  Sponsored by the Eminence Chamber of Commerce (573) 226-3318

May 3
Civil War Encampment
Civil War Encampment at the 2nd Annual Ozark Mountain Festival.  Sponsored by the Eminence Chamber of Commerce (573) 226-3318

May 4 - 10
Cross Country Trail Ride
Week long trail riding event by the Cross Country Trail Rides. You provide horses and camping equipment, and CCTR provides the campground, meals, entertainment for the week, team roping, team penning, horse shows, Nashville entertainers and live band nightly! (573) 226-3492

May 23 - 26
Cross Country Trail Ride
Week long trail riding event by the Cross Country Trail Rides. You provide horses and camping equipment, and CCTR provides the campground, meals, entertainment for the week, team roping, team penning, horse shows, Nashville entertainers and live band nightly! (573) 226-3492
JUNE [TOP]
Each Saturday in June
Concerts at the Courthouse on Main Street in Eminence. Sponsored by the Eminence Arts Council. Main St. Eminence, MO.

June 7
Relay for Life
American Cancer Society - Relay for Life at the Eminence Elementary School. 12:00 p.m. to 12:01 a.m. Contact Terry at (417) 247-1228

June 8 - 14
Cross Country Trail Ride
Week long trail riding event by the Cross Country Trail Rides. You provide horses and camping equipment, and CCTR provides the campground, meals, entertainment for the week, team roping, team penning, horse shows, Nashville entertainers and live band nightly! (573) 226-3492

June 14 - 21 - 28
Civil War Talk & Summer Concert Series
Civil War Talk and Summer Concert Series, sponsored by the Eminence Area Arts Council.  Main St. Eminence, MO.

June 20 - 22
Ozark Rivers Bluegrass Festival
Ozark Rivers Bluegrass Festival at Nick Seaman Memorial Ozark Rivers Park. National and Regional bands, contests and workshops. (970) 222-9439 • www.ozarkriversbluegrass.com
JULY [TOP]
July 2 - 5
Cross Country Trail Ride
Week long trail riding event by the Cross Country Trail Rides. You provide horses and camping equipment, and CCTR provides the campground, meals, entertainment for the week, team roping, team penning, horse shows, Nashville entertainers and live band nightly! (573) 226-3492

July 5 - 12 - 19 - 26
Civil War Talk & Summer Concert Series
Civil War Talk and Summer Concert Series, sponsored by the Eminence Area Arts Council. Main St. Eminence, MO.
AUGUST [TOP]
August 2 -9
Civil War Talk & Summer Concert Series
Civil War Talk and Summer Concert Series, sponsored by the Eminence Area Arts Council. Main St. Eminence, MO.

August 3 - 9
Cross Country Trail Ride
Week long trail riding event by the Cross Country Trail Rides. You provide horses and camping equipment, and CCTR provides the campground, meals, entertainment for the week, team roping, team penning, horse shows, Nashville entertainers and live band nightly! (573) 226-3492

August 22 - 24
Dogs Off the Leash Poker Run
Dogs Off the Leash Poker Run and Concert. (573) 226-3893
www.dogsofftheleash.net

August 29 - September 1
Cross Country Trail Ride
Week long trail riding event by the Cross Country Trail Rides. You provide horses and camping equipment, and CCTR provides the campground, meals, entertainment for the week, team roping, team penning, horse shows. Open 10pm Concert for public. Tickets at gate. Burns & Poe in Concert. (573) 226-3492

August 29 - September 1
Cross Country Trail Ride
Week long trail riding event by the Cross Country Trail Rides. You provide horses and camping equipment, and CCTR provides the campground, meals, entertainment for the week, team roping, team penning, horse shows. Open 10pm Concert for public. Tickets at gate. Burns & Poe in Concert. (573) 226-3492

Scarecrow Contest
Area Scarecrow Contest throughout Eminence.  Area residents and businesses display scarecrows.  Sponsored by the Eminence Chamber of Commerce (573) 226-3318
SEPTEMBER [TOP]
OCTOBER [TOP]
October 5 - 11
Cross Country Trail Ride
Week long trail riding event by the Cross Country Trail Rides. You provide horses and camping equipment, and CCTR provides the campground, meals, entertainment for the week, team roping, team penning, horse shows, Nashville entertainers and live band nightly!
(573) 226-3492

October 11 - 12
Scenic Riverways Arts & Crafts Show
Annual festival with booths of arts & crafts, food, demonstrations, live music, etc.  The Chamber sponsors lunch booth each day.  Located at Circle B Campground. (573) 226-3618
Click here for More Information on the Scenic Riverways Arts & Crafts Show

October 11 - 12
Chamber Food Booth
Stop by the Eminence Chamber of Commerce food booth at the Scenic Riverways Arts & Crafts Show.  Serving fried chicken and pork steak meals.

October 10 - 31
Plan your road trip to Eminence and enjoy the Fall colors!

October 26 - 31
Cross Country Trail Ride
Week long trail riding event by the Cross Country Trail Rides. You provide horses and camping equipment, and CCTR provides the campground, meals, entertainment for the week, team roping, team penning, horse shows, Nashville entertainers and live band nightly!
NOVEMBER [TOP]
November 15 - 25
Deer Season begins. For more information contact the Missouri Department of Conservation (573) 226-3616.
DECEMBER [TOP]
December 6
Christmas in Eminence Celebration & Lighted Parade
2 p.m. Crowning of Queens, homemade goodies, craft booths and at 6 p.m. the evening Christmas Parade begins with floats, bands, horses and Mr. & Mrs. Santa Claus. Sponsored by the Eminence Chamber of Commerce (573) 226-3818

December 7
Holiday Concert
A Holiday music concert sponsored by the Eminence Area Arts Council. (314) 607-5564